Hey hey, It's Michael McAllister, and I've got some bomb news for y'all 🎉
Our team just rolled out a fresh new feature on Go HighLevel, and it's fire 🔥 Basically, our clients can now send handwritten thank you cards straight from their dashboard! How sick is that?!
In this post, I'm gonna break down the process for you, step-by-step, so you can do it too, even if you're not a tech whiz.
Now, you might be wondering, "Why should I even care about this feature?" Well, let me tell you, there are so many dope benefits to using it. For starters, sending handwritten thank you cards is a killer way to build customer loyalty and make them feel valued 💯

Plus, it's a great way to stand out from your competitors, generate referrals, and keep your clients coming back for more 🤑
But that's not all, folks!
By setting up this feature, you'll also learn some major keys about workflows and Zapier. And trust me, even if you're a total newbie, you can master this sh*t 🙌

Now, I know some of you might be thinking, "This sounds too good to be true. Can I really do it?" The answer is HELL YEAH, you can! 🤘
Don't be intimidated by the technical stuff, we'll walk you through it. And who knows, maybe you'll discover a whole new world of mortgage marketing and automation that you never even knew existed 🌎
So, let's get to it! In the next section, we'll break down the process step-by-step. And if you get stuck or have any questions, don't hesitate to drop a comment below. We got your back 👊
So, first things first, what is Handwrytten? 🤔
Well, it's a company that sends actual handwritten thank-you cards using robots that hold pens.
Yeah, you heard that right!

These robots write out the cards and they end up looking more like real handwriting than if you were to print it. We use this product ourselves, and if you're a core client of ours, you may have already received one of these cards from us. And let me tell you, we love 'em! 💕
Now, you might be wondering how Handwrytten compares to other similar services, like Thanks.io. In our experience, Handwrytten was more efficient, had better communication throughout the process, and the finished product was better. So, we highly recommend going with Handwrytten if you're looking for a vendor to handle this for you.
Plus, they even offer cool add-ins like gift cards that are only charged when if the receiver redeems them. Or you can upload a copy of your handwriting and it'll print your cards with that as the font. How awesome is that?!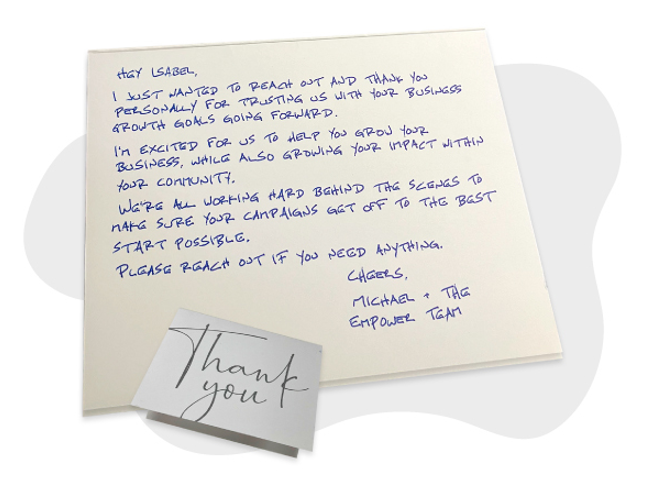 Okay, now let's take a look at how we're leveraging Handwryttenfor our clients in our account. We're inside our client's accounts right now we've got this button in the upper right-hand corner.
Now, if you're not an agency, you won't have access to create these buttons. And even if you are an agency, you'll need access to the Marketer's Toolkit by Tom Bristol in order to create them. But don't worry, I'll show you later how you can still create something similar without the button.
So, once we click on the Thank You card button, we're taken to a form where we can fill out the information for the card, including our client's address, the recipient's address, a message, and then submit it.

Now, let's talk about how to set up Handwrytten in your account if you're not an Empower LO Core client.
First things first, you're going to need a Zapier account. If you don't have one already, no worries, just head over to Zapier and sign up for an account.


We're going to be triggering off of a webhook, which might sound a little technical, but trust me, it's not as bad as it seems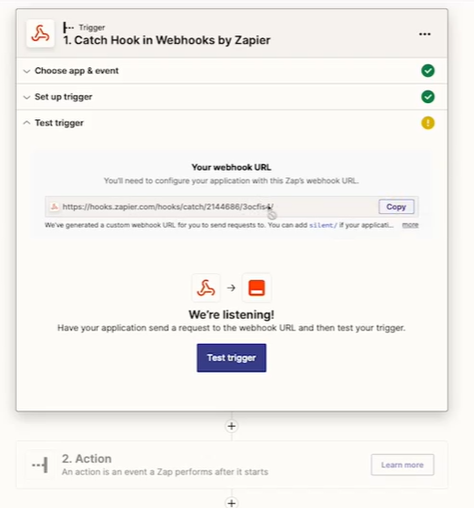 Once you've set up your webhook, we're going to set up our CRM, Go HighLevel, to send the webhook to that URL.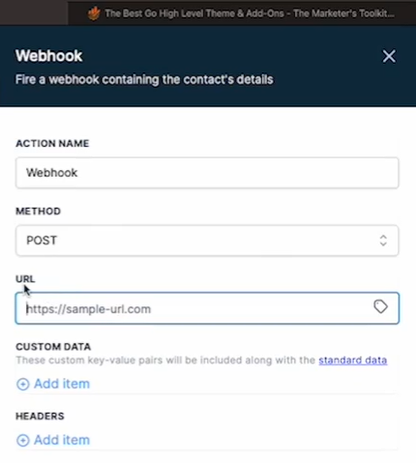 So, create your workflow and select the webhook action. Make sure to paste the URL directly from Zapier and SAVE the action.
Now, we're ready to send a test workflow to make sure everything is working properly. You'll be able to see all the fields from your CRM, including the contact's name, email, phone number, and more.
Next up, we're going to use the Send Card action to send a handwritten thank you card. This is where you'll need a Handwrytten account and have your credit card information ready to go.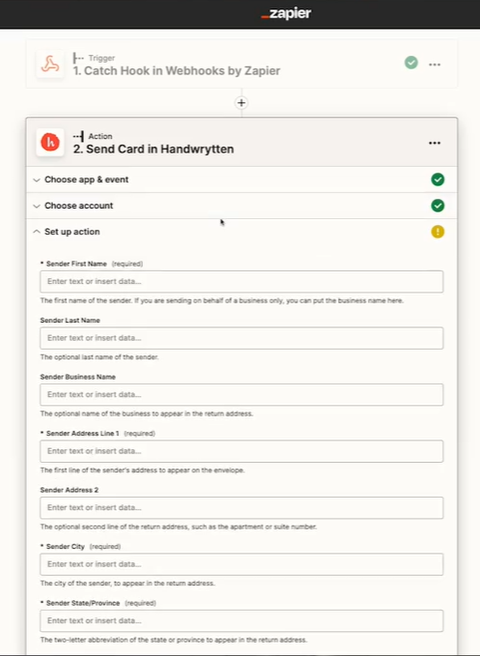 You'll be able to send any information you want on the card, and if you're cool with the same sender and address every time, you can hard code that in so you don't have to map it every time (hard coding just means you type in the exact details you want, rather than a stand in variable that can change).
Just remember, in order for this to work, you'll need to collect the recipient's address somehow.

You could collect their address early on in the sales funnel, or you could use a form to fill out their address every time you want to send a thank you card.
Once you have their address, the possibilities are endless! You could send a thank you card for a closed loan, or even trigger a birthday card on their special day! 🎉 The sky's the limit, folks!

Learning something like this could really help you cut costs and make your business more efficient. Plus, think about how impressed your clients will be when they receive a handwritten thank you card from you! 😍
And the cost? It's super affordable!
At around $4 per card, it's a no-brainer investment. Think about it, if sending a handwritten thank you card to a past client or partner could bring in just one client every two years, it's already paid for itself!
Are you ready to take your business to the next level? If so, start brainstorming some creative ways to use this tool in your business, and you'll be amazed at the results! 😎 If you find anything cool, shoot us an email at hello@empowerlo.com so we can nerd out about it together.

If you're excited about these possibilities, but don't want to go through all the set-up, we offer this in our lead-generation mortgage marketing platform that is built off Go HighLevel and customized producing loan officer experience and data from hundreds of loan officers around the country.
Curious?

Schedule a demo today with the best mortgage lead generation company or grab a free trial to try our stand-alone platform and see what we can do for you!
Until next time, we'll see you at the top,
Michael McAllister